Alpine Green DUALSHOCK®4 Wireless Controller
Released 15th April 2019 - Now Sold out :(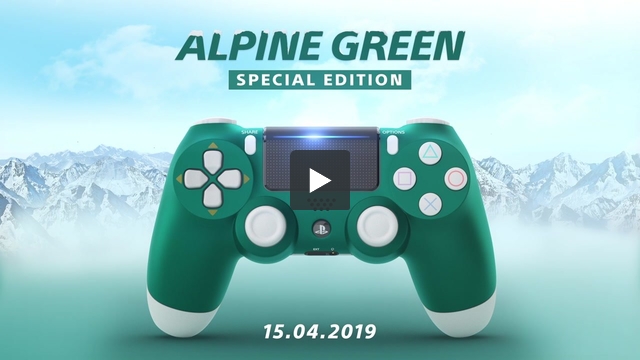 Play in style with the Special Edition Alpine Green DUALSHOCK®4 wireless controller – out 15 April 2019.
Refresh your set-up with this contrasting green and white wireless controller –offering precision controls, innovative features and a durable built-in rechargeable battery.
Grab a second wireless controller from our range to enjoy the latest and greatest local multiplayer games on PS4™. From surviving zombie onslaughts in Call of Duty: Black Ops 4 to scoring wonder goals in EA Sports FIFA 19, discover new local multiplayer games at playstation.com/localmultiplayer.
Features
Ergonomic Design
Get to grips with an elegant, super comfortable design, while highly responsive sticks and buttons mean greater precision during gameplay.
SHARE Button
Use the SHARE button to upload your gameplay videos and pictures on social networks. Stream live gameplay to Twitch, YouTube and Dailymotion or edit your recorded gameplay videos and share them on Facebook and Twitter. You can also invite online friends to play your games with you, even if they don't own them with Share Play*1.
Touch Pad
Guide, gesture and draw with the responsive touch pad –now restyled so you can see your light bar colour from above as you play.
Light Bar
The integrated light bar can emit various colours to show you more of the game, such as your character's health for more intuitive play. It also helps the PlayStation®Cameratrack your controller position –allowing you to interact with your virtual surroundings while using PlayStation®VR.
Built-in Speaker and Stereo Headset Jack
Enjoy extra sound effects –straight from the controller –and chat with online friends via a headset, such as the stereo headset included with the PS4™ console.
Vibration Feedback
Feel even more deeply engaged with the action as the controller shudders and shakes in your hands, thanks to intuitive vibration motors.
Remote Play
Stream your PS4™ games to a Windows®PCor Mac so you can keep on playing even when you're away from the TV*2. The DUALSHOCK®4 USB wireless adaptor (sold separately) makes Remote Play and other compatible applications on your computer even better, allowing you to play wirelessly.
Customised Control
Prepare your controller just the way you like it –set the speaker volume, disable vibrations and adjust the light bar brightness. You can also choose to control gameplay wirelessly via Bluetooth® or by using a USB cable*3connected to your PS4™.

*1Sony Entertainment Network account and high-capacity internet connection required. Third party account may be required for some Share features. Share Play also requires PlayStation®Plusmembership. *2High-capacity internet connection required. Some games and operating systems may not support Remote Play. *3 A USB cable is not included. To connect or charge the controller use the USB cable supplied with the PS4™ system.
Secure Payments




Buy with Confidence