Company of Heroes 2: All Out War Edition
INCLUDES ALL MAJOR COH2 CONTENT:
« BASE GAME INC. THE SOVIET AND ARDENNESS ASSUALT CAMPAIGNS »
« THE WESTERN FRONT ARMIES & BRITISH FORCES »
« ALL THEATRE OF WAR SCENARIOS »
« ALL DLC COMMANDERS »
« DIGITAL ARTBOOK »
« SOUNDTRACK »
*PLUS AN EXTRA COPY OF THE COH2 BASE GAME TO GIFT A FRIEND*
Company of Heroes 2: All Out War Edition is the ultimate World War II Real Time Strategy Game. Experience war in Europe like never before. Lead your forces to historic victories in two epic campaigns spanning from Stalingrad to the Battle of the Bulge. Command five unique factions across an incredible selection of multiplayer and skirmish scenarios. Intense co-op and challenge missions await in the thrilling Theatre of War expansions. Company of Heroes 2: All Out War Edition also includes a free Company of Heroes 2 Steam code for a friend, all DLC Commanders, the Official Soundtrack, and the Franchise Artbook.
Inspired by history – grounded in strategy, Company of Heroes 2: All Out War Edition builds on a legacy of award-winning combined arms gameplay. Master authentic series defining mechanics such as cover, line of sight, suppression, and supply lines to secure victory.
Visceral visual presentation completes the experience. Realistic physics and incredible detail dial up the immersion in ever-changing destructible environments. Feel the battle as vehicles crush barricades, artillery scars the landscape, and ice cracks under tank treads threatening a chill grave. This is Company of Heroes 2: All Out War Edition.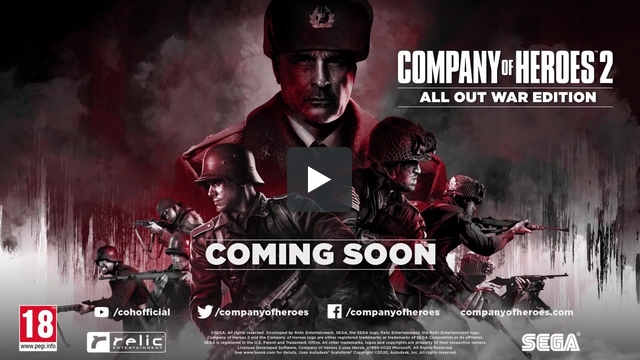 Our Pre order Guarntee
- Payments Via PayPal are authoised on reservation, and will only be processed on dispatch.
- Payments Via Credit / Debit / Amex will be processed when your order is placed.
- You may cancel your reservation at any time before dispatch.
- If your Pre Order is more then 30 days before release AND you have paid via PayPal, we will contact you near release date to reauthorize your purchase.
- Before release, If the price drops, you will only ever pay the lowest. If the price goes up, then we will protect that and your order price will stand.
PEGI 18+: The level of violence can become gross and can include horrific methods of bringing severe injury or death including torture, decapitation or dismemberment. Violence against vulnerable characters such as children and the elderly may feature, along with motiveless violence against multiple innocents.
Sexual violence and threat are also classified at PEGI 18 and sexual activity with visible genital organs can be shown. The game may include detailed descriptions of criminal techniques, or it may glamorise the use of illegal drugs.
This game is rated by Games rating authority and PEGI