Assassin's Creed III Remastered - Nintendo Switch
Released 21st May 2019
Assassin's Creed III Remastered includes Assassin's Creed Liberation Remastered
The year is 1775. The American colonies are about to revolt. You are Connor, an assassin who has sworn to secure liberty for his people and his nation. To do so, you will hunt your enemies across a staggeringly large, open, and realistic world. You will unleash your lethal skills in a violent quest that will take you from chaotic city streets to blood-soaked battlefields in the hostile American wilderness and beyond.
You will meet legendary heroes of American history, and together you will conspire to annihilate those who threaten Liberty itself.
In Assassin's Creed III Remastered you are Connor, the warrior son of a Native American mother and British father. As a bloody revolution draws ever nearer, your clan is threatened by a powerful group seeking to crush the American Revolution and control the thirteen colonies. Shocked into action by the devastation of your village, you pledge your life to the cause of freedom, and embark on a decades-long quest to achieve it.
Assassin's Creed III Remastered includes Assassin's Creed Liberation Remastered

In addition, all solo DLCs from the original game "Benedict Arnold Missions", "Hidden Secrets" & "Tyranny of King Washington are included

Optimized for the Nintendo Switch with Play in TV mode, Handheld mode, or Tabletop Mode & Touch Screen Interface

Experience the Assassin's Creed universe on the eve of the American Revolution. Play as Connor, who is the warrior son of a Native American mother and British father, to secure liberty of the nation

Connor's story will allow you to explore unique environments: Boston, New York, The Frontier & Epic Naval missions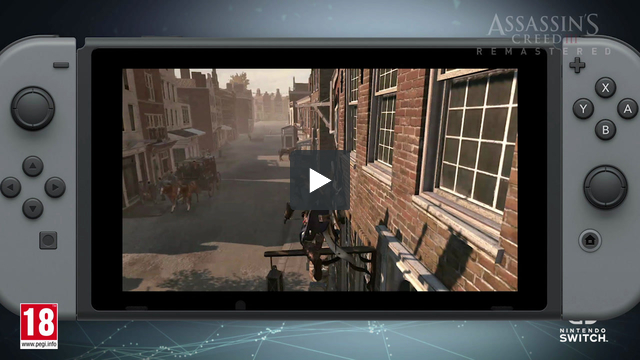 PEGI 18+: The level of violence can become gross and can include horrific methods of bringing severe injury or death including torture, decapitation or dismemberment. Violence against vulnerable characters such as children and the elderly may feature, along with motiveless violence against multiple innocents.
Sexual violence and threat are also classified at PEGI 18 and sexual activity with visible genital organs can be shown. The game may include detailed descriptions of criminal techniques, or it may glamorise the use of illegal drugs.
This game is rated by Games rating authority and PEGI
Secure Payments




Buy with Confidence