Assassin's Creed Odyssey
Released 5th October 2018 (Medusa + Gold Available from 2nd October)
Write your own legendary Odyssey and live an epic adventure in a world where every choice matters. Sentenced to death by your family, embark on an epic journey from outcast mercenary to legendary Greek hero, and uncover the truth about your past. Forge your path through a war-torn world shaped by gods and men, where mountains and sea collide. Meet Ancient Greece's famous figures and discover a pivotal point in history that shaped western civilization.

Assassin's Creed® Odyssey brings player choice to the forefront through innovations never-before-seen in Assassin's Creed as you choose the hero you want to become and change the world around you. Through the relationships you build with colourful characters and the decisions you make along your Odyssey, it is you who is in control of your destiny. Customize your equipment and master new special abilities, tailoring your hero's skillset to your play style. Fight your way across Greece, engaging in visceral battles both on land and sea, to become a true hero of legend

 BECOME A LEGENDARY GREEK HERO – In a first for the Assassin's Creed franchise, you can choose which hero to embody throughout this epic journey, Alexios or Kassandra. Customize your gear, upgrade your abilities, and personalize your ship on your path to become a legendary Greek hero.
 DELVE INTO ANCIENT GREECE – From the heights of snowy mountain peaks to the depths of the Aegean Sea, explore an entire country full of untamed environments and cities, at the peak of Greece's Golden Age. Unexpected encounters will breathe life into your story as you meet colourful characters, battle vicious mercenaries, and more.
 CHOOSE YOUR OWN PATH – Your decisions shape the world around you with over 30 hours of choice dialogue and multiple game endings. Experience a living, dynamic world that constantly evolves and reacts to your every decision.
 FIGHT EPIC BATTLES – Demonstrate your extraordinary warrior abilities and shift the tides of battle during the Peloponnesian War. Charge into epic clashes between Sparta and Athens in Big Battles pitting 150 vs 150 soldiers against each other.
 SAIL ACROSS THE AEGEAN SEA – Find uncharted locations, uncover hidden treasures or cleave your way through entire fleets in naval battles. Customize the look of your ship, upgrade weaponry to suit your strengths, and recruit crewmembers with unique perks, tailoring naval combat to your style.
 A LAND OF MYTHS & LEGENDS – Discover a world rich with myths and legends. From ancient rituals to famed statues, come face-to-face with Greece's legendary figures and discover the truth behind the myths.
Uncover the darkest secrets of ancient Greece with the Assassin's Creed® Odyssey – MEDUSA EDITION. Featuring Alexios, standing on the unsettling statue of Medusa, the mythical creature. This Collector's Edition includes the following physical and digital content:

 Physical content
o The Fallen Gorgon statue (height: 33cm) – By Ubicollectibles.
o The Assassin's Creed® Odyssey game.
o A 64 page Artbook: Featuring the artworks from Ubisoft Quebec artists that led to the creation of the game.
o The world map: Explore the world of Assassin's Creed® Odyssey with this hand-drawn artistic representation.
o The Selected Game Soundtrack: A selection of the best music from Assassin's Creed® Odyssey.
 Digital content*
o An additional mission: The blind King. Meet a mysterious traveller that will prove to be much more than he appears as his past is revealed.
o The Kronos Pack (Including 5 epic pieces of armour, 1 epic weapon, 1 epic mount).
Time is of the essence when you put yourself at the service of Kronos.
o 1 Temporary XP Boost.
o 1 Temporary Drachmas Boost.
From outcast to living legend, embark on an odyssey to uncover the secrets of your past and change the fate of Ancient Greece. Experience seamless naval exploration, and brand new ways to fight, in a world that is constantly evolving and reacting as you play.

*Final content and release dates subject to change. Some features may not be available at launch. Content may be available for purchase and/or as giveaway(s) separately at Ubisoft's sole discretion at any time. System requirements pending. Please check system requirements and product details/restrictions before purchase and upon game release before redeeming your pre-order.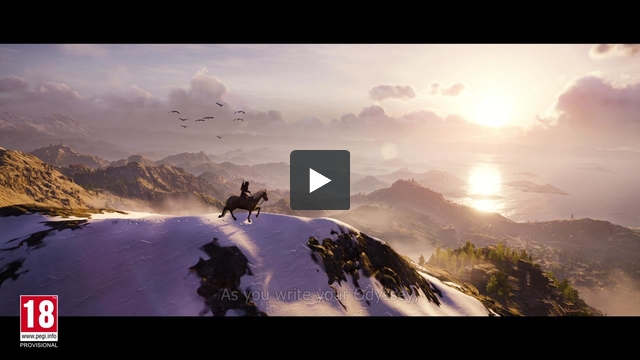 PEGI 18+: The level of violence can become gross and can include horrific methods of bringing severe injury or death including torture, decapitation or dismemberment. Violence against vulnerable characters such as children and the elderly may feature, along with motiveless violence against multiple innocents.
Sexual violence and threat are also classified at PEGI 18 and sexual activity with visible genital organs can be shown. The game may include detailed descriptions of criminal techniques, or it may glamorise the use of illegal drugs.
This game is rated by Games rating authority and PEGI
Secure Payments




Buy with Confidence