Assetto Corsa Competizione (Day One Edition) - PlayStation 5
Assetto Corsa Competizione (Day One Edition) - PlayStation 5
Availability:
Available to Order
Assetto Corsa Competizione is the official GT World Challenge game for PS5 and Xbox Series X/S.
With 24 licensed cars and 11 tracks to race on all taken from the GT3 championship, drivers can compete against each other in Sprint, Endurance and Spa 24 Hours races, in both single and multiplayer modes.
KUNOS Simulazioni are masters of recreating authentic racing simulators, delivering a new standard in driving realism with photorealistic weather conditions, night races and motion capture animation.
Pre-Order Assetto Corsa Competizione now to receive the 2020 GT World Challenge Pack DLC.
The 2020 GT World Challenge Pack DLC adds a new track, two new cars, more than 60 new liveries and the 2020 GT World Challenge season to Assetto Corsa Competizione.
The DLC pack features: Autodromo Internazionale Enzo e Dino Ferrari – Imola, Ferrari 488 GT3 EVO 2020, Mercedes-AMG GT3 EVO (2020), 60+ new car liveries, 2020 Pirelli "DHE" Tyre Model and 2020 GT World Challenge Season BOP.
Experience true next-generation gaming with increased visual fidelity through 4K graphics, and 60FPS for a faster and smoother race experience.

Fully Immersive Simulation: Race like a real GT World Challenge driver, with options to configure tyres, chassis, engine set up, and more.

New-Generation Graphics & Visual Effects: Photorealistic weather conditions and multi-channel audio sampling to create that authentic GT racing experience.

Laser-Scan Circuits: Every track is recreated through Laser-Scan technology, providing a level of realism not seen before in a console racing sim.

Advanced Multiplayer Functionality: Includes a new fair-play ranking system (rewarding virtuous players), solid matchmaking, regular challenges, and a real-time online leader-board.

Private Multiplayer Lobbies: Create your own lobby for private races.

Immersive Single Player Experience. Career, Championship and Free Play modes offer a complete and customisable gaming experience, catering for all types of players from complete novices to advanced drivers looking to test themselves against the best.

Compatible With a Range of Hardware: From gamepads to professional steering wheels, gear up to race like the professionals.

Motion-Captured Cinematics: Fully animated cut scenes interjected during races, pit stops, and driver changes provide a truly authentic race day experience.

2021 Liveries: Updated liveries from the 2021 season.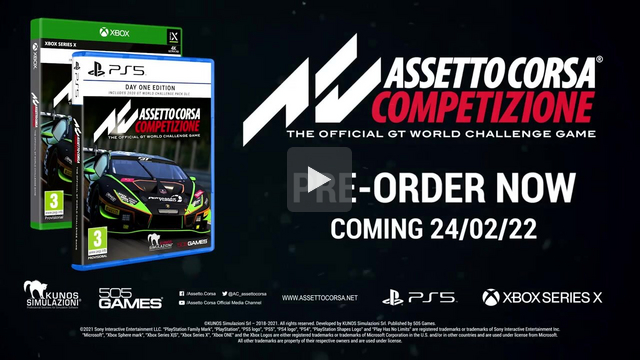 Our Pre order Guarntee
- Payments Via PayPal are authoised on reservation, and will only be processed on dispatch.
- Payments Via Credit / Debit / Amex will be processed when your order is placed.
- You may cancel your reservation at any time before dispatch.
- If your Pre Order is more then 30 days before release AND you have paid via PayPal, we will contact you near release date to reauthorize your purchase.
- Before release, If the price drops, you will only ever pay the lowest. If the price goes up, then we will protect that and your order price will stand.
PEGI 3+: Majority of games in this category are considered suitable for all age groups and does not contain anything that requires rating or warrants a content warning. No violence descriptors but may contain slapstick violence as long as it is in a comical sense or not considered to be disturbing in any way, nudity allowed in a natural and non-sexual manner such as breast-feeding.
This game is rated by Games rating authority and PEGI
Secure Payments




Buy with Confidence