Windstorm: An Unexpected Arrival - Nintendo Switch
Windstorm: An Unexpected Arrival - Nintendo Switch
Availability:
Available to Order
In the official game based on the movie 'Windstorm: Ari's Arrival', experience the story of Ari as she arrives in the Alpine area and quickly befriends Windstorm. Together they will go on exciting horse riding adventures and discover the true meaning of friendship!
After surviving a fire, Windstorm is restless and not even Mika is able to help him. It is only when the brave girl Ari unexpectedly arrives at the beautiful Kaltenbach estate that Windstorm is able to calm down by befriending Ari.
Even though Ari has no prior experience in horseback riding, she is able to ride Windstorm without any problem. Will Mika regain the confidence to ride Windstorm once again? And what about the legend of the horse warrior that Mr. Kaan keeps talking about?
You will need more than just skills in horseback riding, you also have to be skilled in wielding a bow. Discover shooting your bow and arrow, and master your archery skills on foot and even on horseback!
Discover 15 quests in which Ari's bond with Windstorm will grow as you meet many interesting characters along the way. Explore the breathtaking Alpine area on foot or on horseback and discover all the secret locations and extra stories.

Experience the unexpected friendship between Windstorm and Ari
Enjoy discovering the gorgeous Kaltenbach estate with its many secrets, either on horseback or on foot
Put your skills with a bow and arrow to the test and master your archery skills
Based on the successful Windstorm movies and best-selling books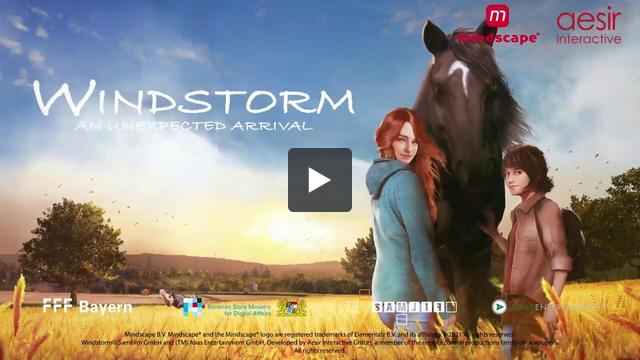 PEGI 3+: Majority of games in this category are considered suitable for all age groups and does not contain anything that requires rating or warrants a content warning. No violence descriptors but may contain slapstick violence as long as it is in a comical sense or not considered to be disturbing in any way, nudity allowed in a natural and non-sexual manner such as breast-feeding.
This game is rated by Games rating authority and PEGI
Secure Payments




Buy with Confidence